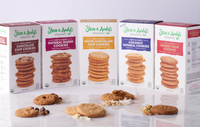 GLUTEN-FREE AND ORGANIC COOKIES. IT'S WHO WE ARE, NOT WHAT IT IS…
Steve and Andy's organics is a unique amalgamation of unforgettable food memories, family traditions and worldly flavors, establishing Steve and Andy as innovative food entrepreneurs. Come join the journey.
USDA Certified Organic, Non-GMO, Gluten-Free Cookies, proudly made in the USA in a dedicated nut-free facility.